Another week with small projects going on behind the scenes. This week, there have both been looked at a adventure map, MadPack 3 Beta 6, new random blocks and much more.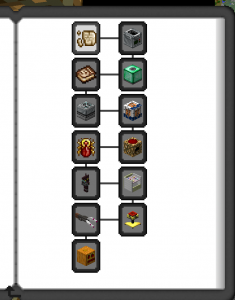 A lot of small projects have been going on, behind the scenes.  Mainly i have started up again (after a small break) on thinking what i want to do with Fire In The Pipe 2. The first in the series Fire In The Pipe can be found on ATlauncher at https://www.atlauncher.com/pack/FireInThePipe which was using minecraft version 1.6.4. The second one in the series will be using 1.7.10, and do a lot of things very differently, but still about the same grindy journey.. Just much harder… I have been waiting on a mod, that is finally out, that let me do some pretty crazy tweaks, so look forward to those, when i can share more about it here on this blog 🙂
MadPack 3 Beta 6 was decided to not be released this friday. But should be out next friday (18-09-2015). This time the End will be opened, with a new quest chapter.
But also 2 new quest to the overworld (You can see those in the first screenshot) A lot of mods will be updated, and many more small changes. You can read this beta versions changelogs at https://kehaan.me/?p=116
Another small adventure was made for MrCrainer. This time it was about the evil gingerbread people, from a previous adventure, and a new pharoah boss. You can watch the episode here: https://kehaan.me/?p=134 where i also have included a modlist.
A small update to Crundee Craft was also released. This version enabled Inventorytweaks on servers. Enabled the vanille enderchest and also added a new recipe to the vanilla enderchest.
Some new blocks was also made which MrCrainer and SSundee used in their casino series.
MrCrainer also released another episode in his X VS Wither series. This time he had to use torch blocks to try and defeat the wither. Will he ever make it? Thats the question. You can watch the episode here: www.youtube.com/watch?v=VPgXtfGoCng
Thats about it for this week. Thank you for reading this. As always feel free to tweet at me, if you ever have any questions.