Another week have passed, and its time for another weekly post. This week have i mostly been working on new BamBlocks, MadPack 3 Beta 7 and a few site updates. I also got my first gift from a follower, which i will write a little about.
One small addition i did this week to this blog, was adding my twitter feed on the right side of the site. By doing this its easier for you as a reader to follow on, what else kinda of stuff i do, which i dont write about here (or simple forget to write about).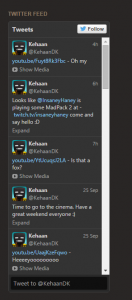 I have also been updating a lot of mods in my development environment for Fire In The Pipe 2. I hope i can have a early alpha test of the pack up this upcoming week. I have not yet decided if a beta will be out on ATlauncher, or the pack first will be out public when the pack is fully released. I can not yet, give a release date as the pack is still in very early development, but i will write more about it on this blog, once i have more to share.
We decided to not release MadPack 3 Beta 7 this friday, as many of the changes we wanted to do for this beta, was not made yet. One of the biggest changes this beta 7 has so far is the addition of BamBlocks. I also wrote a little about them last week, but these blocks let me make blocks kinda like Lucky Blocks, just with many more options. I have made many more different blocks this week. Some of them the Youtubers Crainer and SSundee played around with in their newest episode of their Lucky Block series.
These kind of blocks will be in Beta 7, in the blocks called BamBlocks. I also share new blocks on my twitter, and youtube channel.
One thing i was very surprised about was a viewer/follower sending me a gift. This is the first time i have got a gift like that. It was a very special feeling, as it was the first one, and i appreciate it very much. I means a lot to me. He left a note which i have saved.  If you Cruxdaca who sent it reads this. Thank you very much. I tryed to find your twitter or something else to contact you on. But have not been able to do so. He have a channel called https://gaming.youtube.com/cruxdaca which you can find him on. He is the maker of a modpack called CruxMod, which he have been working on for a long time.
This is all for this week. Thank you for reading this. I hope you have had a good weekend.