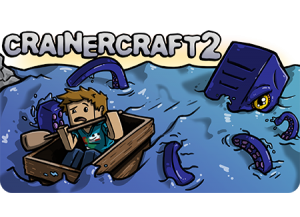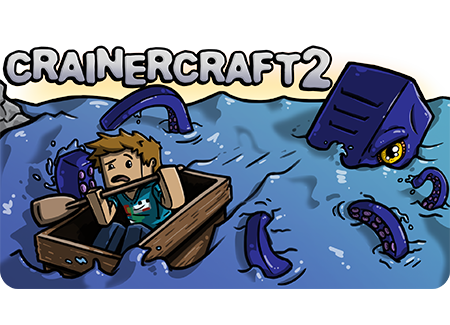 Crainer Craft: 2.0.0

Crainer Craft have just been released. This is a very big update. A new world is required. As it is a major new version of the pack. It adds many new mods, and many mods have also been updated. You find it, under "Packs" on ATLauncher, and select the 2.0 version, to install.
Full changelog can be found here:

Removed BetterFoliage
Removed LuckyBlocks (There is ChanceCubes, IrishLuck and MagicClover)
Added BetterTitleScreen-1.7.10-1.1
Added BrandonsCore-1.0.0.10-bugfix
Added custompets-1.7.10-1.0.2-universal
Added CustomMainMenu-MC1.7.10-1.6
Added dungeonpack-1.7.10-1.0
Added Draconic-Evolution-1.7.10-1.0.2-Snapshot_9
Added ForgeMultipart-1.7.10-1.2.0.345-universal
Added GunCustomization-1.7.10-3.46.0.-
Added Hardcore Wither-1.7.10-1.1.2-15-universal (1)
Added Mankini-1.2.1.
Added magicclover-1.7.10-0.7.2
Added mcjtylib-1.8.1
Added Mekanism-1.7.10-8.1.8.261
Added MekanismGenerators-1.7.10-8.1.8.261
Added MekanismTools-1.7.10-8.1.8.261
Added MrCrayfishFurnitureModv3.4.8(1.7.10)
Added ResourceLoader-1.0
Added rftools-4.22
Added roguelike-1.7.10-1.4.4
Added StorageDrawers-1.7.10-1.7.9
Added TextureGeneratorLib-1.7.10_vBeta2
Added TheErebus-0.4.5
Added VillagersNose-1.7.10-1.3c
Added weaponcaseloot-1.1.8
Updated 1.7.10-MB_Battlegear2-Bullseye-1.0.8.2
-Improved TinkersConstruct support for inventory tabs
Updated MineTweaker3-1.7.10-3.0.10B
– Fixes some bugs in 3.0.10 preventing recipe reloading and possibly giving problems with recipes not working.
– Now supports setting max damage (<item>.maxDamage = 123;)
Updated CoFHCore-[1.7.10]3.1.1-324
– Many bug fixes
Updated EnderCore-1.7.10-0.2.0.31_beta
– Many bug fixes
Updated extrabiomesxl_1.7.10-3.16.4
– Fixed a crash when mods like Veinminer or Factorization try to iterate over leaf blocks.
– Changed IC2 version incompatibility log spam to use debug channel.
Updated extrautilities-1.2.12
– Add NEI "Search For Item In Nearby Inventories" button (Default 'T'). Press this button while hovering over any item in a GUI, and any nearby inventories that contain that item will give off particles. It uses fuzzy matching, so NBT and certain types of metadata will be ignored.
– Disable the item filter "hasContainerIitem.exe" when certain incompatible mods/apis are present.
–  Update localizations
Updated forestry_1.7.10-4.2.7.55
– We upgraded from a very old Forestry. This one have a lot of new features, and many bug fixes. It would be many pages to list here. If you want to see the changelog for Forestry, check out the curseforge page.
Updated Forge 1566
– Bug fixes
Updated iskallminimobs-1.2.35
– Bug fixes and performance tweaks
Updated malisiscore-1.7.10-0.14.1
Updated malisisdoors-1.7.10-1.13.0
– Fixed crashes with raytracing
– Fixed issues with Diamond Vanishing Block GUI
– Fixed Digicode V button not working properly
– Fixed Door movements and sounds order in DoorFactory GUI
– Fixed Cauldron crash when a world didn't have a name
– Added wooden trapdoors.
– Added colored curtains.
– Fixed fence gate crash on dedicated server.
– Added Medieval door
– Added adpatative frames for Big Doors
– Fixed wrong animation direction for fence gate
– Fixed missing mapping crash if vanilla replacement are disabled
Updated MineFactoryReloaded-[1.7.10]2.8.2B1-177
– Bug fixes
Updated neiaddons-1.12.15.41-mc1.7.10
– Bug fixes
Updated NEIIntegration-MC1.7.10-1.1.1
– Bug fixes
Updated NetherOres-[1.7.10]2.3.1-22
– Bug fixes
Updated OpenBlocks-1.7.10-1.5.1
– Feature: more flexible building guide
– Feature: enhanced building guide (can place blocks in survival)
– Feature: rotating elevator
– Feature: implement modlist config GUI
– Feature: epic eraser (to remove flim-flammed lore)
– Feature: wrench-like thingie for rotating blocks
– Fix: amount of sprinkler particles is now controlled by game settings
– Fix: rope ladder drops items for each broken block
– Fix: canon aiming now properly calculates height
– Fix: /dev/null stack overflow
– Fix: skyblock stacking
– Fix: proper liquid xp registration
– Fix: Turkish locale problems
– Fix: block not checking redstone state after placing
– Fix: flim-flammed lore is now places in separate tag, display configurable by config
– Fix: break animation on tanks and rope ladders
– Tweak: more OreDictionaly compatibility
– Tweak: elevator no longer changes player X,Z coordinates after teleport (configurable)
– Tweak: /dev/null now requires sneaking to open GUI
– Tweak: add options for sprinkler consumption rate
– Tweak: improved grave logging
– Fix: internal block tanks ignoring neighbour tanks
– Fix: building guide not storing settings on drop
– Fix: fix infobook crash on some ore dictionary recipes
– Fix: XP shower breaking after block update
Updated OpenModsLib-1.7.10-0.9.1
– Bug fixes
Updated OpenModularTurrets-1.7.10-2.1.9-211
– fixed a missing texture bug
– fixing mekanism recipes
– fixing scattershot upgrade ammo usage
– added a config option to enable missiles to harm the ender dragon and possibly other mods
– fixed: CC Compatability
– fixed: clientside inventory/GUI desync
Updated Pam's HarvestCraft 1.7.10Lb
– Absolute Massive Change: Grapes are now found in Berry Bushes instead of Tropical
– Added: Water Chestnut, Green Heart Fish (can't be cooked) drops to Water Gardens
– Added: Curry Leaf, Sesame Seeds drops to Tropical Gardens
– Added: Curry Leaf, Sesame Seeds, and Water Chestnut crops
– Added: Gooseberry Trees as a temperate tree spawn
– Added: Added de_DE (German) and pt_BR (Portuguese) language files (Thanks LorenzoDCC, ReneMuetti, Yulife)
– Change: Gardens should no longer generate in dead biomes (Thanks Lawremi)
– Change: Fruit Trees should no longer generate in dead biomes (Thanks Lawremi)
– Change: Several recipes now use "listAllspice" instead of "cropSpiceleaf" to allow for Curry Powder use
– Change: Shepard's Pie now requires "listAllmuttonraw" instead of using any raw meat
– Change: Fish recipes named Whatever Salmon now use "foodSalmonraw" instead of "listAllfish"
– Fix: Water Buckets should return to same slot (Thanks blay09 and others)
– Fix: Shift-clicking in my tile entities should now work! (Thanks blay09)
– Fix: Water crops should stop popping out of the ground (Thanks Lareitaia)
– Fix: Chocolate Sprinkle Cake now known as Chocolate Sprinkles Cake (Thanks LorenzoDCC)
– Fix: Candleberries now registered as cropCandleberry (Thanks bogatyr-n)
– Fix: Config option freshwaterfrombucket should now work (Default: 1) (Thanks xsi93)
– Config Option: You can disable listAllwater OreDictionary for vanilla Water Buckets – enablelistAllwatervanillawaterbucket – Default: True (Thanks
TheQuantumGeneral)
– Config Option: You can disable listAllwater OreDictionary for Fresh Water – enablelistAllwaterfreshwater- Default: True (Thanks TheQuantumGeneral)
– Recipe: Combine Plain Yogurt and Milk to get 2 Plain Yogurt (Thanks AngleWyrm3)
– Recipe: Sesame Seeds —> Cooking Oil in Presser
– Recipe: Curry Powder (mortar pestle/quern)
– Recipe: Toasted Sesame Seeds (furnace/oven/Mr.C's oven/Mr.C's microwave)
– Recipe Changes: All jelly sandwichs can be made with all types of nut butters
– Recipe Change: Pistachio Baked Salmon now accepts all fish (Thanks kotoroshinoto)
– New Foods: Almond Butter, Cashew Butter, Chestnut Butter, Cornish Pasty, Cottage Pie, Croissant, Curry Powder, Dim Sum, Fried Pecan Okra, Gooseberry
Jelly, Gooseberry Jelly Sandwich, Gooseberry Milkshake, Gooseberry Pie, Gooseberry Smoothie, Gooseberry Yogurt, Green Heart Fish, Ham & Sweet Pickle
Sandwich, Hushpuppies, Kimchi, Mochi, Museli, Naan, Okra Chips, Okra Creole, Pistachio Butter, Ploughman's Lunch, Pork Lo Mein, Salmon Patties, Sausage,
Sausage Roll, Sesame Ball, Sesame Snaps, Shrimp Pork Okra Hushpuppies, Soy Sauce, Sweet Pickle, Veggie Strips, Vindaloo
– Change: Over 50 new textures by MCThe_Paragon
– Change: Presser now has two output slots again by ErdrickXLII, Presser recipes have changed, see the Recipe.txt
– Fix: MFR Crop planting fix by wilkemeyer
– Fix: Presser and Oven textures fixed by ErdrickXLII
– Added: Apple Smoothie, Cheese on Toast, Chocolate Roll, Coconut Cream, Coconut Smoothie, Cracker, Cranberry Smoothie, Cranberry Yogurt, Deluxe Chicken Curry, Garam Masala, Grape Smoothie, Gravy, Honey Sandwich, Jam Roll, Mango Chutney, Marzipan, Paneer, Paneer Tikka Masala, Pea and Ham Soup, Pear Jelly, Pear Jelly Sandwich, Pear Smoothie, Plum Jelly, Plum Jelly Sandwich, Plum Smoothie, Potato and Leek Soup, Toad in the Hole, Tuna Potato, Yorkshire Pudding
– Added: You can now press Grape Seeds, Coconuts, Mustard Seeds, Avacados, Cotton Seeds, Pumpkin Seeds, and Tea Seeds for Cooking Oil (and bait stuff)
– Fix: Gooseberry Trees now spawn! (Thanks codewarrior0)
– Fix: Changes the log blocks in the Maple, Cinnamon and Paperbark trees from weird square versions of the fruit block – with all its specific placement and very un-log-like behaviour – to proper log blocks which retain the same growing functionality while also acting like vanilla logs. The logs can be placed side-on or vertical, craft into planks matching the leaf-type used in the trees, are registered in the oredict as "logWood", have the correct sound and hardness profiles and more. Player placed bonemealed logs will return to their normal alignment. (Thanks TTFTCUTS)
– Fix: Also fixed cakes to have correct placement behaviour and to show width proportional to the number of slices that they are defined to have instead of always assuming they have eight. (Thanks TTFTCUTS)
– Fix: Ore Dictionary label "cropSesameseeds" changed to "cropSesame". Might fix issues with other mods. (Thanks TheDarkPreacher)
Updated PortalGun-4.0.0-beta-6
– Bug fixes
Updated ProjectE-1.7.10-PE1.9.5
– NEW: Cooldown config for gem chest explosions
– FIXED: Harvest Goddess Band breaking bottom reed
– FIXED: Possible fix for a transmutation GUI exploit
– FIXED: A mod conflict caused by our usage of getContainerItem
– FIXED: IllegalArgmentException when trying to create an illegal NSSItem
– FIXED: A exception handling issue in the mapping system
– FIXED: Chinese language file
– CHANGE: Further improvements to gem armor gliding
– NEW: Per conversion arithmetic for fluids
– NEW: Config option to disable area mining
– FIXED: A issue causing the pedestal to render upside down in some situations
– FIXED: Objects such as torches and levers can now be placed on collectors
– FIXED: A Repair Talisman crash
– FIXED: Missing localized text for the setEMC command
– FIXED: Keybind localization
– FIXED: A issue causing servers with protection to lock up during vein mining
– FIXED: Pregenerated EMC file is now properly closed
– FIXED: A API issue regarding NormalizedSimpleStack
– CHANGE: Items learned using the Tome can now be unlearned
– CHANGE: Java 7 or higher is now required
Updated RedstoneArsenal-[1.7.10]1.1.3B1-93
– Bug fixes
Updated rfwindmill-1.7.10-0.7b
– Added Portuguese translation
– Column behind or vertically centred on windmill no longer blocks wind
– Fixed occasional crash when breaking rotors
Updated runicdungeons-1.1.6a
Added:
– Runic Steel Storage Block
– Magical Chalk Recipe using Ars Magica 2 Chalk
– Config to edit texture of Bricks, Pillars, Lamps, and Keyhols
– 16x Textures for some blocks, disabled by default
– Configuration option to whitelist which items can be worn on the feet to prevent traps from harming players in the config
– Brand new room
– Config to allow users to customize chest loot per room type
– A ladder in the library, just in case you needed to reach that really high book.
– 3-Way Corridor
-Hallway
Changed:
– Unbreakable Dungeon Bricks are now only one block
– Guardians now do more damage depending on the amount of players in the area
– Say goodbye to ChestGen.cfg, as it is no longer used, use ChestGeneration.cfg instead
– Adjusted Guardian Spawner texture to be less… strange
Fixed:
– WitherBoss-Proof Bricks and Glass not being WitherBoss-Proof
– WitherBoss-Proof Glass dropping WitherBoss-Proof Bricks
– Players suffocating in Rotting Slabs
– Belt of Flight allowing unlimited flight when not wearing it
– Runic Pillars being destroyed on accident
– Crash from Runic Guardian
Updated TConstruct-1.7.10-1.8.8
– Update to NotEnoughKeys new API, fixing the inventory open bug
– Fix AOE tools harvesting blocks when broken
– Separate Ardite and Cobalt configs
– Potential fix for slime islands not showing up on maps or on clients
– Change blacklist for boss-yellow-heart-drops to a config option
– Several Localization Updates. Thanks to all the people who continuously keep providing new/updated localizations!
Updated ThermalDynamics-[1.7.10]1.2.0B1-168
– Bug fixes
Updated ThermalExpansion-[1.7.10]4.1.2B1-239
– Bug fixes
Updated ThermalFoundation-[1.7.10]1.2.2-111
– Bug fixes
Updated TiCTooltips-mc1.7.10-1.2.5
– Fixed custom localization of ExtraTiC tool parts when holding CTRL on a tool (for non-English languages)
– Made certain localizations more friendly to non-English languages
– Added Czech localization (thanks @nalimleinad)
– Added Spanish localization (thanks @XxCoolGamesxX and www.megaplanet.net)
– Updated Italian localization (thanks @TheVikingWarrior)
– Updated Russian localization (thanks @Adaptivity)
Updated TMechworks-1.7.10-0.2.15.106
– Fixed inserting blocks while drawbridge is extended.
– Fixed a crash when looking at the Signal bus with WAILA installed.
– Added displaying effect and tooltip on the spool's connecting state.
– Fixed the spool taking damage while trying to link the same points.
Updated WAILAPlugins-MC1.7.10-0.2.0-23
– tterrag1098: Completely overhaul plugin registration to use -annotations (Fixes #54)
– tterrag1098: Split PluginForge into separate handlers for DSU and fluid handlers
– tterrag1098: Fix some plugin name issues in the logging
– tterrag1098: 0.2.0
– tterrag1098: Fix invalid cast when setting owner data
– tterrag1098: Update forestry to official release
Updated WTFCaveBiomes-1.7.10_v1.53
– Many bug fixes and performance tweaks
Updated WTFCore-1.7.10_v1.66
– Many bug fixes and performance tweaks
(Info for server owners: mods and config folder have been changed)
You can find the full modlist here https://www.atlauncher.com/pack/CrainerCraft