A update to Fire In The Pipe 2 have just been released.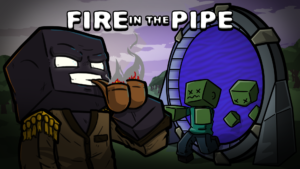 This update contains a new mod, the worldgen mod got updated. And lots of nerfs.
(Info for server owners: config, script and mod folder have been changed)
Full changelog can be found here:

Some items have been removed with this update. Just click "continue" if singleplayer when loading old world. Or /fml confirm, if server when loading old world.
Added LavaMonsters-1.7.10-2.2.1
Updated RTG-1.7.10-1.0.1
– Vanilla Ice Plains Spikes biome by default.
– Decorations are now more 'aware' of villages, resulting in them being less overgrown.
– Savanna Plateau biome variants now use grassless dirt.
Mesa biome variants now use grassless dirt.
– RTG's realistic versions of vanilla/modded biomes no longer extend BiomeGenBase, resulting in greater overall mod compatibility, especially for mods that use a previously-incompatible type of biome checking.
Nerfs:
– You now cant smelt Aluminium ore in Tinker Smeltery. You need to now process the dust in a Blast Furnace, to get ingots. The ingots you can process in the Smeltery @ Thanks bedantis666 for info.
– New recipe to Chocobo Saddle Bags, thanks k0jul for suggestion.
– New Chocobo Saddle recipe
– You now cant smelt Iron Doors in Smeltery @ Thanks bedantis666 for info.
– HealingAxe is now disabled @ Thanks Street1841
– Disabled Barley crops @ Thanks Lizardry
– Added a ToolTip to Barley and Barley Seeds @ Thanks Lizardry
– Zombies should now destroy Lit Pumpkins @ Blame Vash505
– Zombies should now destroy backpacks @ Blame TheSkera
– Zombies now destroy Storage Drawers and Storage Units.
– Thaumometer now requires Chrome Plates #KehaanYouAreEvilILikeYou
– Disabled Tapes from Storage Drawers @ Blame Vash505
– You now need Macerator for Blaze Powder @ Blame Vash505
– You now need Chemical Reactor or Tinker smeltery for Glistering Melons @ Blame Vash505
– food.history.length increased from 60 to 80 @ Blame Vash505
(Info for server owners: config, script and mod folder have been changed)