A update to Fire In The Pipe 2 have just been released.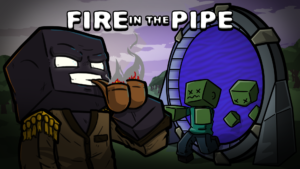 This update fixes some recipe and quest issues.
(Info for server owners: config, mods and script folder have been changed)
Full changelog can be found here:

Fixed a bug with the powderbarrels not working in a implosion compressor. Thank you https://twitter.com/k0jul
Updated AppleCore-mc1.7.10-1.3.9
Fix sending way too many saturation/exhaustion sync packets on multiplayer servers
Add exhaustion.sync.threshold config option to control the frequency of exhaustion sync packets
Sync difficulty to each player on login (instead of only on server startup)
Improve startup time by ~67% (thanks @asiekierka [squeek502/ASMHelper#13])
Updated gregtech-5.09.29
Added Lightning Rod! Quickly looses power from its internal storage. For best efficiency, get out the EU asap. It has lots of Amp for that.
Bugfixes and rebalancings for circuit changes.
Fixed Cleanroom bugs.
Opening Cleanroom door now lowers cleanness.
Fix Exception for Oildrilling.
Fix Low Grav(Spacestation) production for crystal cpus.
Multiple fixes for Modular Armor.(Still more to go, also need bugreports for them)
Recipes in NEI now get sorted.
Fix for chances of customoreveins.
Fix nether stonegeneration.
Fix one missed casing recipe.
Fix multple spellings.
Fix for incorrect oregen in nether if Biomes O Plenty is installed.
Fix Assemblyline multiblock check.
Fix Overclocking of high amp machines in processing array.
Fix rare fusion reactor bug.
Prevent stacking of empty batteries in battery buffer.
Fix ItemDetector Cover not detecting the first slot.
Add config für Teleporter energyusage.
Reducte Plascrete Mininglevels and hardness.
Allow teleportation to galacticraft dimension.
Fix powerbarrel bugs.
Fix GT crashing without NEI installed.
Fix EBF working without Mufflerhatch.
Add config to disable crops needing blocks below.
Changed Achievements to fit new circuits.
Circuit Changes:
All Circuits got revised: https://docs.google.com/spreadsheets/d/1Z8IcI553bSPDB-dSrE1knsHiYiekcdO8JBrmaiZklZU/edit#gid=0
Add Cleanroom multiblock.
Change silicon processing.
Add new circuit components.
Add new LuV+ circuits.
Many recipe rebalancings.
For example: Steam hammer now 3:2 for Ingot->Plate processing.
Multiblock building blocks halved in costs.
Some destillation tower recipes speed up.
Split Oil and Pollution calculation by dimension(by maixgame).
Add config for Oil drilling in different Dimensions (by maixgame).
New Fluid Filter modes (by DEMOOH).
Mix client side memory overflow issue.
Change IC2 NEI recipes into GT NEI recipes.
Add advanced seismic prospector (by KpoxaPy)
&many more smaller bugfixes.
Updated HungerOverhaul-1.7.10-1.0.0.jenkins104
Multiple Unreleased bug fixes
Updated inventorypets-1.7.10-1.4.9.5-universal
[1.7.10, 1.10.2, 1.11.2] After many spirited debates with a few MC players, the April Fool Grief Pranks (drops, armor switch) are now turned off by default. You can re-enable these pranks through the config (Enable April Fool Grief Pranks = True).
[1.7.10, 1.10.2, 1.11.2] Updated World Generation to fix error with cascading worldgen (credit: Boodaflow, thanks: Mezz)
[1.7.10, 1.10.2, 1.11.2] Dungeon Generation now compatible with Biome Dictionary, fixes compat with Biomes of Plenty, ATG, etc. (credit: malwilson)
[1.7.10] House Pet can now return you to your spawn point from any dimension (credit: Jon Bams) – already in 1.10.2 and 1.11.2
[1.7.10] Harvest Speed now normal when using Cloud or Squid Pets – already in 1.10.2 and 1.11.2
[All] House Pet no longer sends you underground if your SpawnPoint is not set
[All] Illuminati Pet cooldown now working properly if extended past 2.5 minutes. Can now be extended up to 10 minutes. (credit: Jo-Mamma75 / FoolCraft team)
[All] April Fool Pet no longer performs the 'drop' or 'replace armor' prank if mob griefing gamerule is set to false (credit: ariosos)
[All] Armor and items repaired by Living Anvil should now keep their repairs after being thrown from inventory
[1.7.10] Bed Pet now adds hours to total World Time when sleeping to get to the next day instead of resetting total World Time back to zero (credit: al132) – already in 1.10.2 and 1.11.2
[1.7.10] Banana Pet can no longer be duped by throwing against a nearby wall (credit: bowlingboom0)
Updated journeymap-1.7.10-5.1.4p2-unlimited
Bugfix: Web Map needed updated API key to continue functioning
Minor bugfixes.
Updated RTG-1.7.10-1.1.1.4
No surface ponds in Mesa Bryce.
RTG tree log blocks can now grow into water.
Fixed BOP Outback not being decorated on vanilla grass.
Fixed bug related to RTG tree replacing non-air blocks.
Fixed enableUBCBoulders config using wrong default value.
Better ground checking for swamp willows.
Trees no longer generate on sand by default. NEW!
Added config options to disable lush river bank surfaces and decorations.
Added plateau block config options.
Added configurable cliff blocks.
Added allowBarkCoveredLogs config option.
Added enableWorldTypeNotificationScreen config option.
Various minor config tweaks to match config from 1.10.2.
Better comments for some biome configs.
Backported RTG tree system from 1.10.2.
Backported sapling growth logic from 1.10.2.
Various tweaks and enhancements.
Updated SGCraft-1.13.3-mc1.7.10
Fixed collision boxes of naquadah ore and naquaday alloy block.
Updated StorageDrawers-1.7.10-1.10.8
Added Framed Drawers
Added Framing Table
Added ja_JP translation (thanks vorfee)
Fixed custom drawers dropping as regular drawers.
Fixed various rendering problems with custom drawers.
Fix permanent render crash when framing drawers with blocks that don't return valid icons.
Fixed crash when removing a drawer from a controller network while other systems are using it.
Fixed framing table allowing players to dupe raw drawers.
Fixed framing table refusing to craft in some cases.
Fixed status upgrade crashing client when placed on framed drawers.
Performance improvement in controller interactions with some mods.
Minor rendering adjustments.
Fixed voiding regression for AE2, LP
Updated zh_CN translation (thanks XieEDeHeiShou)
Fixed framing table drawer dupe / material over-consumption
Fixed framed drawers not stacking if crafted from different material "stack sizes"
Fixed tape not rendering on framed drawers
Fixed CoFH-locked drawers crashing clients
Fixed edge cases where pack blocks could return a null icon
Added redstone upgrades.
Taking items from drawers will try to put them directly in your inventory first, then drop them in front of drawer.
Obsidian storage upgrade gives drawers higher blast resistance.
Enforce strict oredict checking on compacting tier lookup verification.
Fixed generic recipes sometimes taking precedence over wood-specific recipes (thanks codewarrior0).
Taking items from drawers will make sound again.
Fixed item dupe bug with Applied Energistics 2.
Creative upgrades can only be removed from drawers by creative players.
Creative upgrades no longer drop when a drawer is broken.
Reduce amount of block re-rendering when inserting or removing items
Fixed redstone not updating when items moved through controller.
Fixed empty slot not being started when existing slot for a given item is full.
Sealed drawers can no longer be used to craft upgrade templates.
Added NEI handler for upgrade template recipe
Fixed controller slaves not finding same slots as controllers.
Fixed compacting drawers sometimes not finding smaller-fraction items.
Fixed compacting drawers render desync when first populating with items.
Fixed possible crash when inserting/extracting from controller slave attached to AE2 storage bus.
Fixed dupe bug with buildcraft robots
Fix compacting drawers sometimes creating invalid material transformations.
Fix compacting drawers mishandling certain items like snowballs.
Fix controller range config setting not syncing correctly.
Fix possible crash in controller if it's asked to find a null item.
Updated SpiceOfLife-mc1.7.10-1.3.8
(Info for server owners: configs, mods and script folder have been changed)